Let yourself
BE INSPIRED...

Sardinia fair travel – Sardaigne en liberté

TAILOR MADE TRIPS IN SARDINIA

SARDINIA FAIR TRAVEL
HAS IMAGINED AND CREATED DIFFERENTS STAYS TO SATISFY ALL YOUR WISHES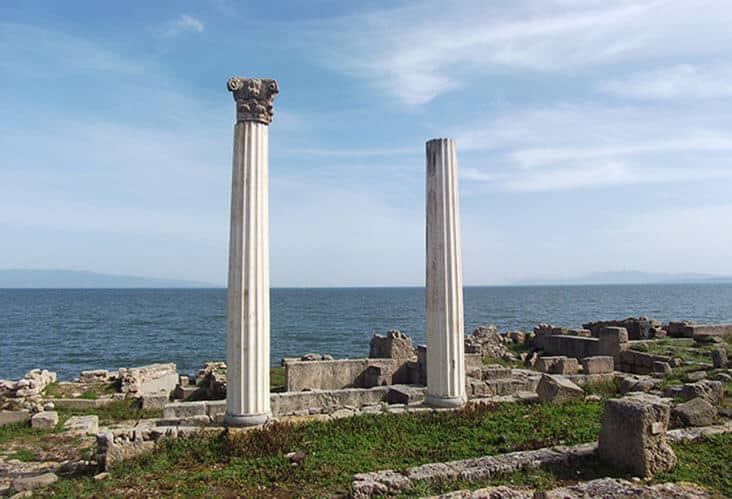 A RICH CULTURAL AND ARCHEOLOGICAL HERITAGE
Sardinia preserves a rich archeological heritage that you can discover, taking advantage, at the same time, of nature and authentic encounters with Sardinians. You can visit numerous archeological sites, such as the nuraghe, the Giants' tombs, menhirs, dolmen, the Domus de Janas (fairy houses) and sacred wells.
During our stays, you will be accompanied by an archeological guide specialized in the Nuragic civilization, which also speaks French.
OUR FORMULAS
Discovery of the Neuralgic civilization : excursion in small groups of 8 people,traveling, to discover Sardinia.

Discoveries and experiences stays that combine wellness and archeology : in a spa that has already been used by the Romans for the known benefits of its waters.

Own a-la-carte stay : a stay that allows you to set out to explore individually, with our assistance according to your needs.

Experiences : we also have the possibility to organize, if you wish, some archeological experiences: visit of a reconstructed Roman camp, archeological workshops to learn the manufacture of pottery or nuragic weapons…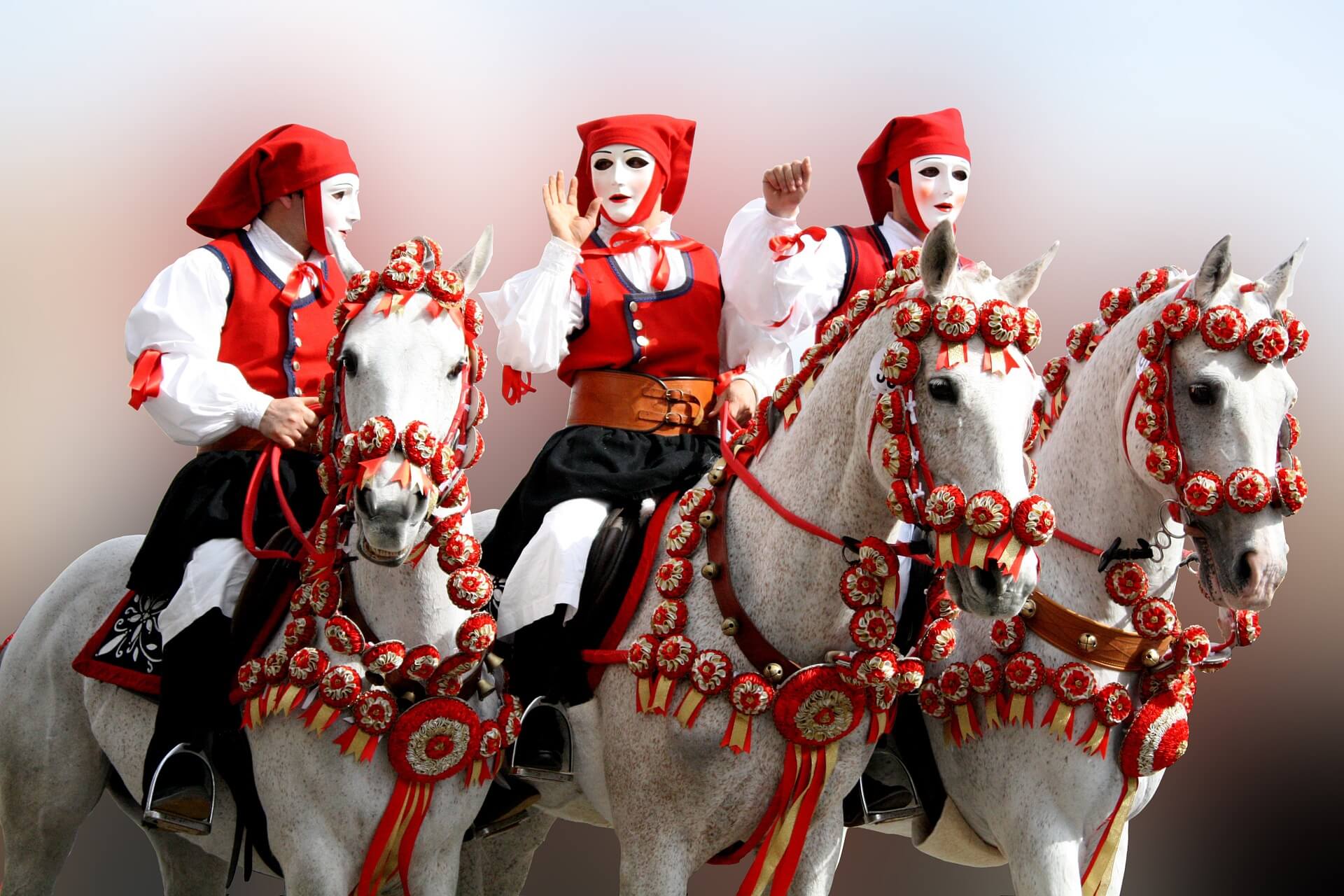 The Carnival of Sardinia (su Carrasegare) is one of the most original events of the island. Its masks, its typical costumes, its rites and its shows show the specificity of Sardinian culture.
This trip will allow you to discover the Sardinian polyphonic song "a tenores" and the traditional dances of the region.
DICOVERY ROUTES
Our itineraries take you to the heart of Sardinia, in Barbagia, to discover :
the small town of Mamoiada and its Mamuthones – masked figures ;
the city of Oristano and Sartiglia – horse race with medieval origins.
OUR ACTIVITIES
An itinerant stay that will immerse you in the authentic traditions of Sardinia, from Carnival to the know-how of the shepherds and winemakers of Barbagia.

The discovery of incredible ancestral rites, cultural expressions of the traditional agro-pastoral society and dance to the sound of drums and accordions.

 

The beautiful walks will lead you to the discovery of wild nature and archeological remains.

A stay full of unforgettable experiences, far from mass tourism, where the Sardinian festivals and traditions are discovered in an authentic way.

Nights in typical Sardinian inns in contact with the local population.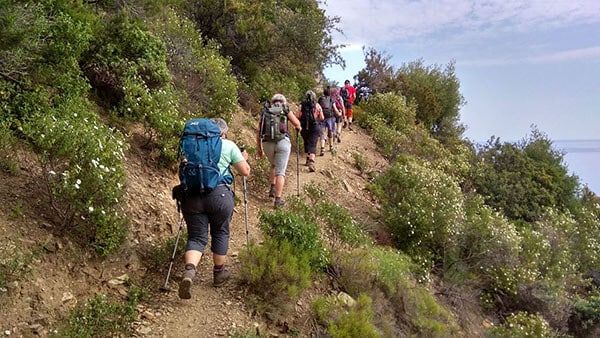 SARDINIA, IDEAL PLACE FOR NORDIC WALKING TOUR
Sardinia is particularly suitable for this type of walk, it allows you to make excursions with a change of scenery guaranteed, in routes suitable for this type of walk. Most of the mountain areas remain untouched with trails and hiking paths to explore.
For each Nordic walking we organize, we start the day with a gradual warm up, before walking between 4 and 6 hours a day. We rent Nordic walking poles.
OUR FORMULAS
Wellness stay combining spa and Nordic walking
 Trekking in a small group limited to 8 participants in itinerant stay to discover Sardinia.

Stays mixing wellness and Nordic walking in one of the wellness centers, already used in antiquity by the Romans for the benefits of its waters.


AN ISLAND IN THE HEART OF THE MEDITERRANEAN SEA
TO DISCOVER IN FAMILY
Sardinia is particularly suitable for family holidays in a relaxing environment and in full nature.
The island benefits from a special sun exposure, with magnificent landscapes, paradisiacal beaches and enchanting mountains. Beyond landscapes, the whole family will have the opportunity to appreciate the local culture and gastronomy.
Sardinia fair travel offers several "family in freedom" options. For example discovery stays around nature and local Sardinian culture which are suitable for children.
OUR ACTIVITIES
Nature and sport activities: kayaking, diving, hiking and donkeys, horses, sailing boat, bike…
Cultural activities and experience: archeological visits, cooking classes to learn how to make pasta or cheese together with shepherds, grazing livestock or even be a shepherd for a day, do the harvest…


AWAKEN YOUR 5 SENSES

IN SARDINIA THROUGH THE DISCOVERY OF ITS TERROIR AND ITS TRADITION
Wake up your taste buds with generous dishes of the Sardinian tradition, the famous "culurgiones" (ravioli stuffed with potatoes, Sardinian pecorino and mint), suckling pig, myrtle and amaretti (sweet with bitter almonds).
DELIGHT YOUR SENSES
Stimulate your sight in this island rich in landscapes, with its crystal clear sea and its turquoise waters. Explore its pristine nature through moutains hiking and its charming villages.
Opens your ears to the sound of water, the song of birds, cicadas and crickets during your walks in the forest. Let yourself be lulled by Sardinian music and by the history of centenarian inhabitants in the villages where time seems to have stopped.
Unleash your sense of smell and draw on your childhood memories by inhaling the scent of rosemary and juniper and let yourself be carried away by the sweet scent of oranges and lemons.
Develop your fifth sense by learning to cook in contact with the Sardinian grandmothers who will generously teach you their culinary secrets.
Give life to your senses through the meeting of the Sardinian passionate of their island, welcoming, generous and full of humanity.
DISCOVER
The magnificent landscapes, still protected and varied: sea, mountain, forest, small villages .

  

  
The Sardinian culinary richness that will delight your taste buds

The hospitality and generosity of its inhabitants and its centenarians.
The important historical and cultural heritage
And then give yourself the time to listen … only the sound of waves, of nature, of Sardinian songs in this sun-kissed island !